Published: Thursday, 18 May 2023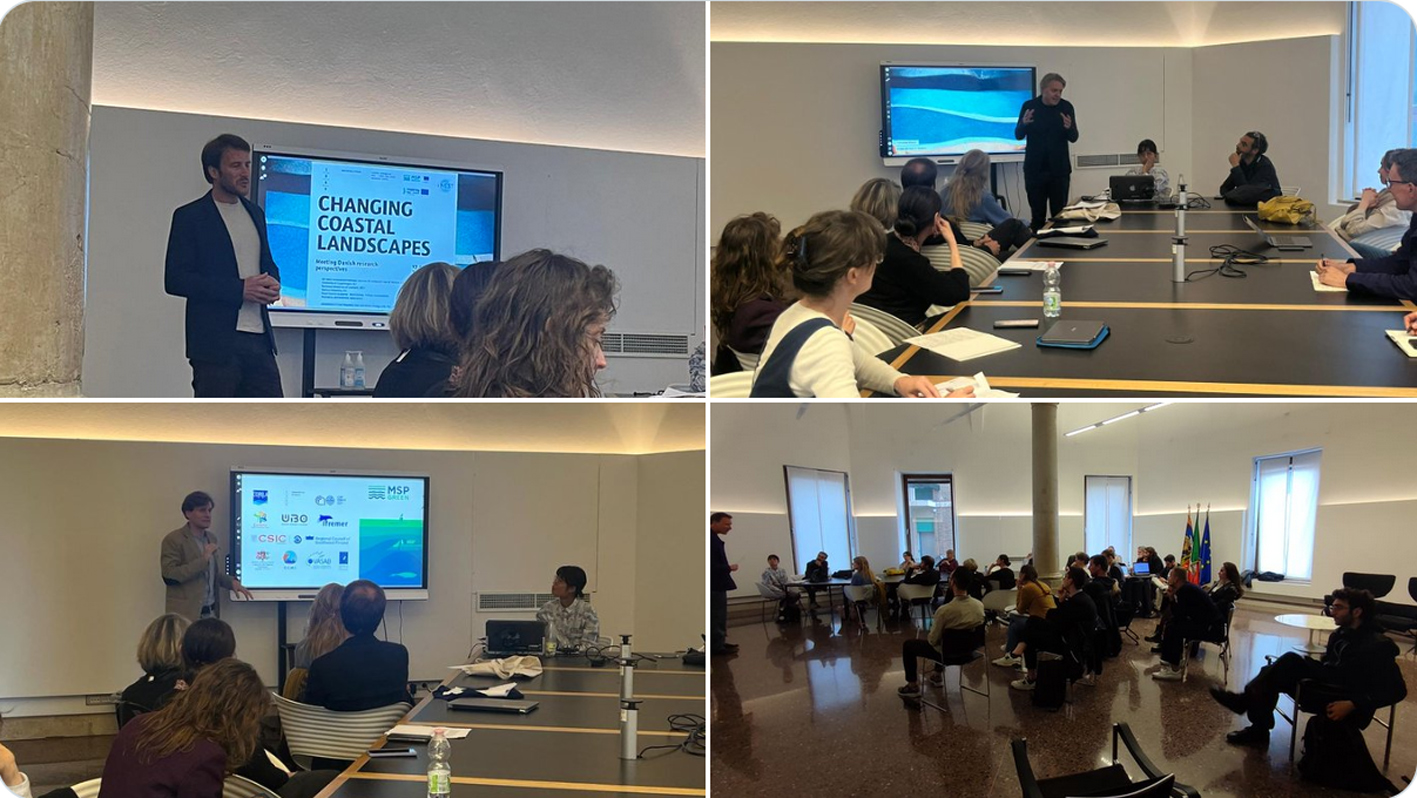 The MSP-GREEN project was presented at University of Venice (IUAV) premises during the Changing Coastal Landscapes meeting. The Danish Universities offered experiences in coastal and marine research, as from IUAV side a perspective on research of EU Green Deal regarding marine Climate Change was provided.
At the meeting, an open discussion was held between scholars of University of Venice and
• University of Copenhagen (KU);
• Technical University of Denmark (DTU);
• Aarhus University (AU);
• Royal Danish Academy - Architecture, Design, Conservation;
• Realdania
Next stop for MSP-GREEN presentation: European Maritime Day, 24-25 May in Brest!
Published: Thursday, 01 December 2022

CCMS attended the 3rd International Conference on Marine/Maritime Spatial Planning (MSP) held last week in 22-23 November, 2022, in Barcelona, Spain. The event was jointly organized by The Directorate General for Maritime Affairs and Fisheries of the European Commission (DG MARE) and the Intergovernmental Oceanographic Commission of UNESCO (IOC-UNESCO). The third edition of the conference aimed to assess the state-of-the-art implementation of MSP and discuss challenges and opportunities to achieve the MSP roadmap priority areas and target (cover at least 1/3 of the global maritime areas under national jurisdictions with marine spatial plans by 2030).
Read more: THIRD INTERNATIONAL CONFERENCE ON MARINE/MARITIME SPATIAL PLANNING, 22 -23 NOVEMBER 2022,...
Published: Thursday, 18 May 2023

The Second Steering Committee and General Assembly Meeting of MSP-GREEN project took place as hybrid event (in Cagliari and online) on 9 May, 2023. The meeting was organized by CORILA and IUAV in synergy with the EMFAF sister project Regina-MSP event on Ocean Literacy for regional MSP.
The event included the CAs, SC and AB members. Scope of the meeting was to assess the progress of activities performed since the Venice's launching conference in January 2023 and, from a strategic point of view, to verify the coherence for future activities. A discussion occurred considering the activities in each work package.

The MSP-GREEN website https://mspgreen.eu/ will be officially launched at the European Maritime Day in Brest, on 24-25 May 2023!
Stay tuned for further updates and follow MSP-GREEN on Twitter: @MSPGREEN22
Published: Thursday, 09 June 2022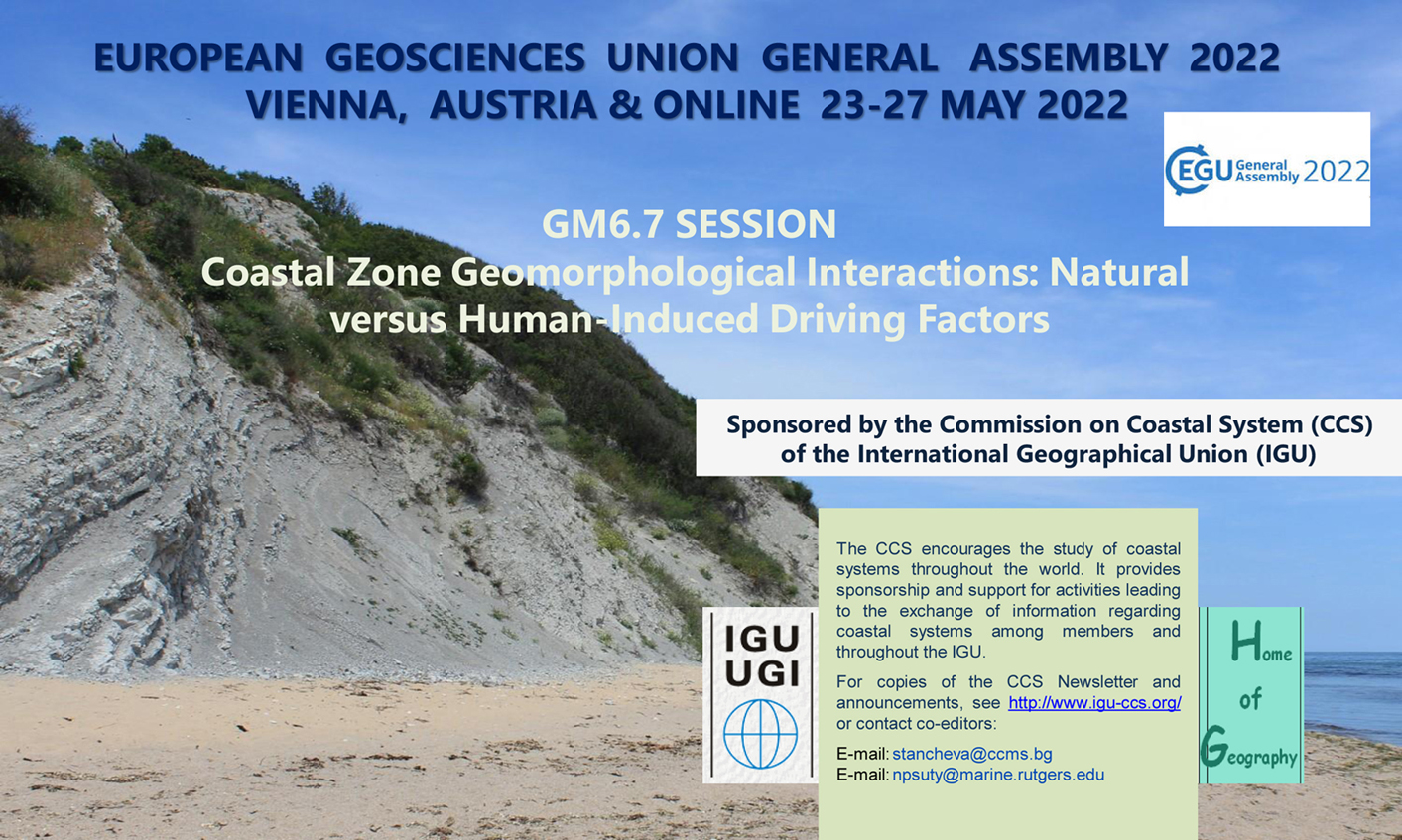 The Geomorphology Session GM6.7 on: "Coastal Zone Geomorphological Interactions: Natural versus Human-Induced Driving Factors" was successfully conducted for the fourteenth time at the EGU 2022 General Assembly, 23-27 May 2022 in Vienna, Austria. This year's conference format was fully hybrid, with presenters both in person at the Austria Centre Vienna and remote via the Zoom Meetings system. With the invaluable help of the in-room technical assistant the session ran very smoothly.
Contributions to this session were focused on a wide range of topics, including environmental recovery from heavy metal contamination in estuaries, controlled flood basins, coastal erosion case-studies in Sicily as well as on Greenland, modelling of coral reef development as well as beach bedforms around buildings, and marina planning in the context of shifting sediment. The session topics also included methodological studies considering remote sensing techniques for beach surveys and automated toolkits for monitoring coastal change.
The session included 11 presentations by authors from a wide range of countries around Europe, attended by a good-sized audience occupying the room to near-capacity and with several dozen online participants.
The session was conducted on Tuesday, 24th of May, chaired by Dr. Andreas Baas (UK). A detailed list of presentations can be viewed online at www.egu22.eu.
Read more: MAY 23-27, 2022. VIENNA, AUSTRIA. EUROPEAN GEOSCIENCES UNION (EGU2022)