Published: Monday, 11 April 2022
WWF, together with MEP César Luena, European Commission and Chris Davies, invite you to RSVP for this webinar on 26 April 2022, 9:30am - 11:00am CEST.
Offshore renewable energy constitutes an essential part of the EU's energy transition towards a resilient and fully decarbonised economy, and is indispensable in achieving a climate neutral Europe. However, offshore renewable energy must also be seen through the lens of other activities, particularly safeguarding biodiversity, which is already under pressure from other activities and whose loss contributes to the climate crisis.
We stand at a critical juncture, where policymakers determine the best way forward for harmonious offshore renewable growth and biodiversity recovery. Offshore renewable energy development will only achieve its objective of supporting the EU's transition towards truly sustainable societies if it offers solutions for the climate crisis that are fully compatible and contribute to a healthy sea, well-being of coastal communities, forward-looking maritime spatial planning, ocean resilience and a just energy transition.
Read more: SAVE THE DATE: 26 April WWF and S&D webinar on offshore renewable energy
Published: Tuesday, 15 February 2022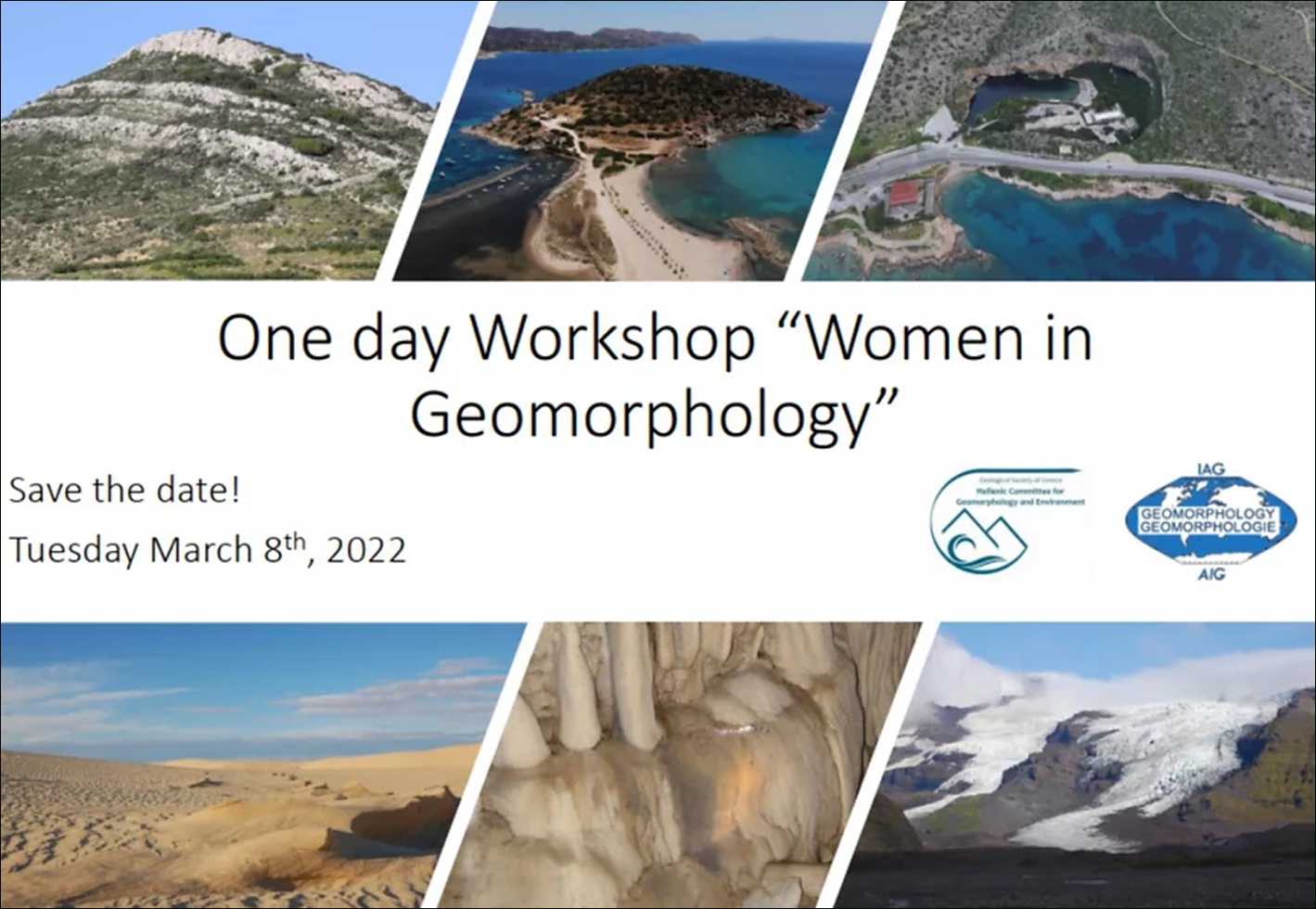 We are pleased to promote the upcoming 2nd Women in Geomorphology Workshop! The event is organized by the Hellenic Committee for Geomorphology and Environment to the International Association of Geomorphologists (IAG) and will take place on 8th of March, 2022, inspired by the International Women's Day.
Save this date in your calendars!
Find more information, or register on the website of the Hellenic Committee for Geomorphology and Environment: https://geomorphologyhelle.wixsite.com/geomorphology/registration?lang=en
Published: Tuesday, 29 March 2022
The General Assembly 2022 of the European Geosciences Union (EGU) is held at the Austria Center Vienna (ACV) in Vienna, Austria & Online, from 23–27 May 2022.

Our EGU2022 Session: Coastal zone geomorphologic interactions: natural versus human-induced driving factors (GM6.7) will be held on Tue, 24 May, 15:10–16:37 (CEST), Room 0.16
The session is organized by Margarita Stancheva, Andreas Baas, Hannes Tõnisson, Guillaume Brunier and Giorgio Anfuso.
The session will be conducted for the fourteenth time and is sponsored by the Commissions on Coastal Systems) (CCS) of the International Geographical Union (IGU), http://igu-coast.org/
The registration for the meeting is available now and the early bird on-site registration fee rates are only available until 31st March at 13:00 CE.
As EGU22 is fully hybrid, there are two types of registration available, on-site registration and virtual registration:
• On-site participation - Due to regulations connected to the Hygiene Plan, registration for on-site attendance at EGU22 will close 13.00 CET 14 April 2022. As mentioned above, early-bird rates will be available until 13.00 CET 31 March.
• Virtual participation - Virtual registration is not subject to restrictions, and so is available until 27 May 2022 (the last day of the General Assembly), but we are offering early-bird rates until 13.00 CET 31 March to help with our digital capacity planning.
Follow the link for the GM6.7 session programme: https://meetingorganizer.copernicus.org/EGU22/session/43936#Presentations
We are looking forward to see you at our session meeting and to your active participation!
Published: Friday, 11 February 2022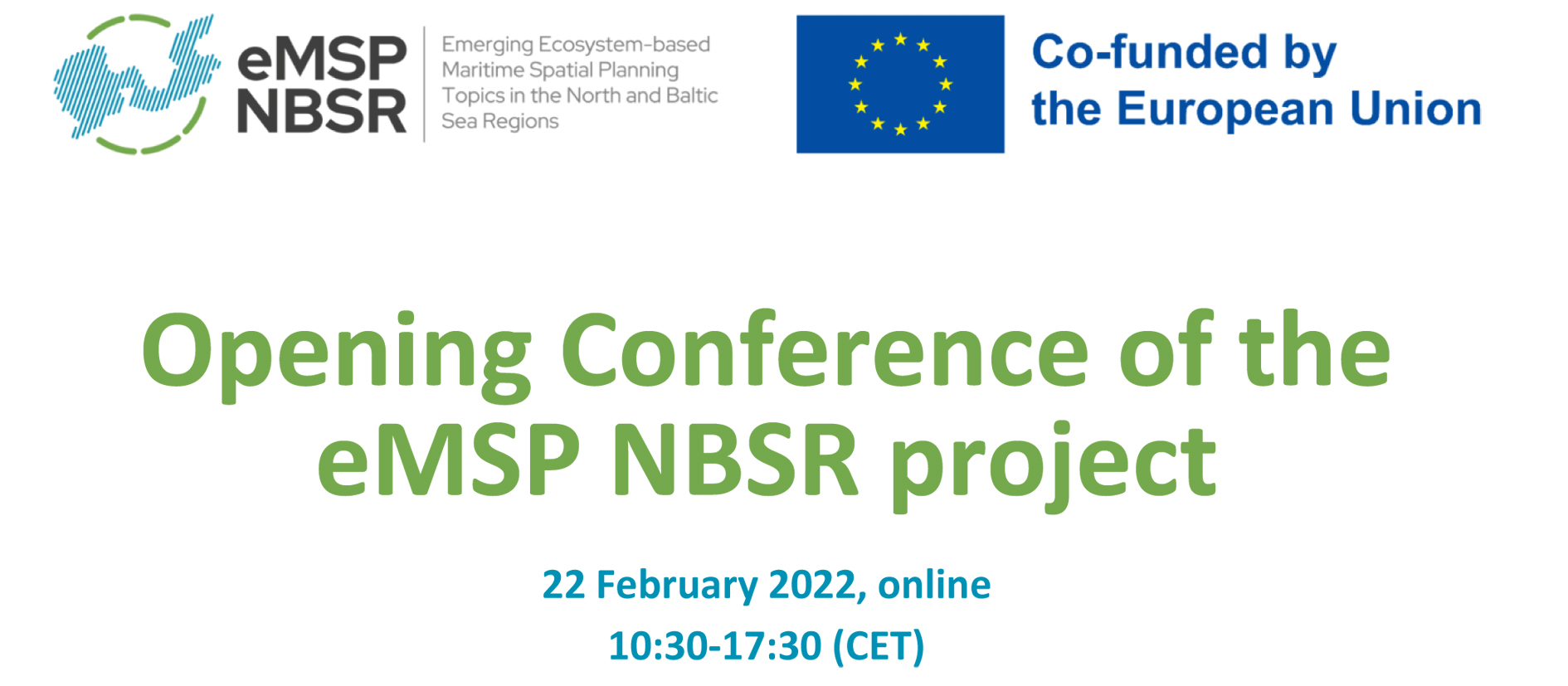 The opening conference of the eMSP project will be organized on the 22nd of February, 10:30-17:30 CET, online. Aim of the conference is to introduce the topics and working methods of the eMSP NBSR project, as well as to discuss opportunities of stakeholders to get involved in project activities.
The opening conference of the eMSP NBSR project will introduce the Communities of Practice (CoP) partners are building within learning strands presenting five emerging MSP topics:
• Ocean governance
• Ecosystem-based approach
• Sustainable blue economy
• Monitoring and evaluation
• Data sharing, information and communication technology serving MSP.
Science policy interface will facilitate the knowledge gained throughout the project by providing scientific advice in the learning strands and establishing a project scientific advisory board.
Throughout the opening conference participants will have a chance to learn more about the Green Deal aspects to be considered in MSP, methods of the 'Community of Practice' and 'Scientific Advisory Board' and contribute to the discussions within the learning strands.
Download agenda HERE.
Registration to the conference is available HERE.