Published: Thursday, 12 March 2020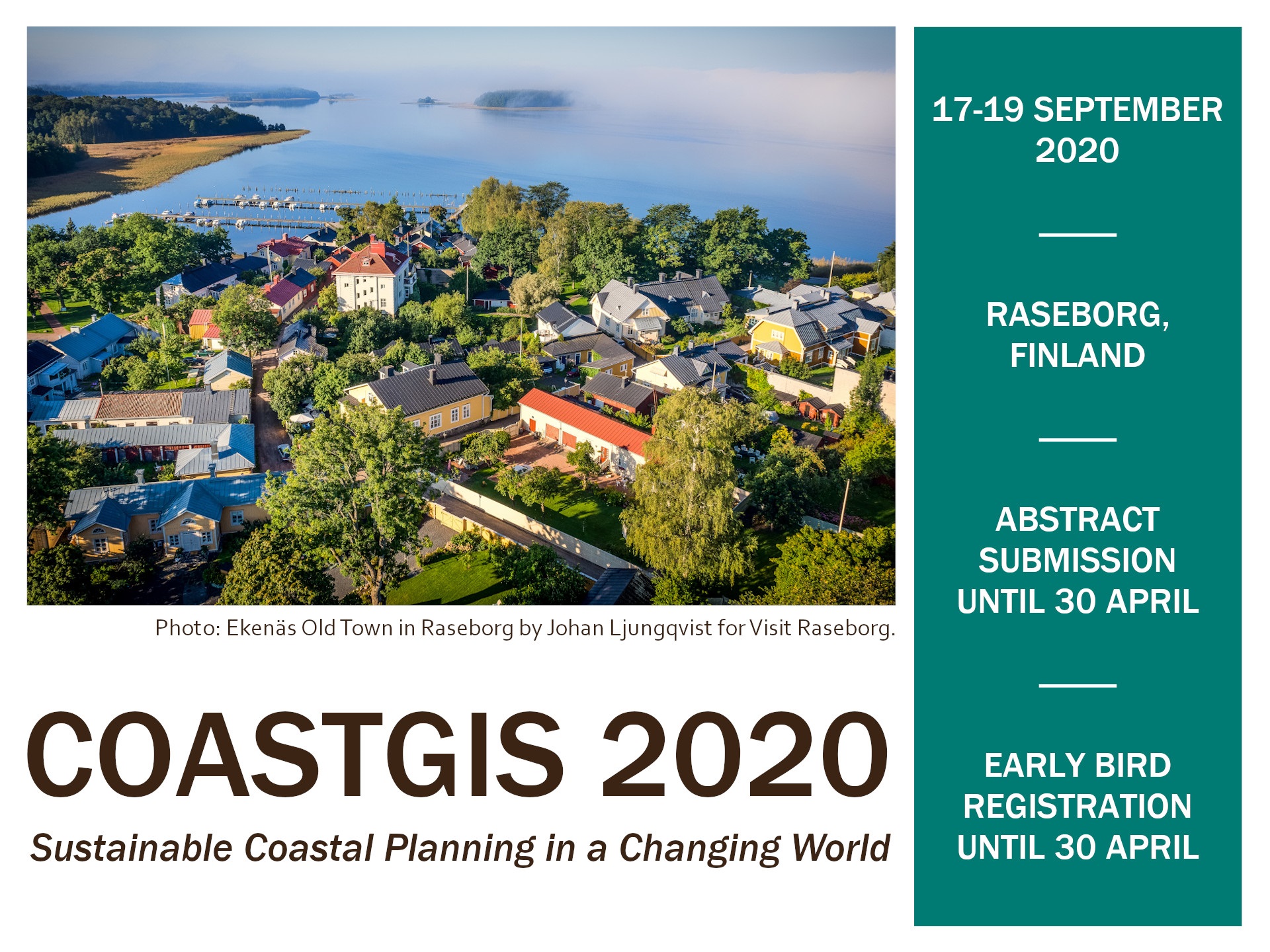 CoastGIS 2020, the 14th International Coastal GIS Symposium, will be held on 17-19 September at Novia University of Applied Sciences in Raseborg, Finland. The Symposium theme this year is "Sustainable Coastal Planning in a Changing World".
Abstract submission and early bird registration for CoastGIS 2020 are now open until 30 April!
Read more: CoastGIS 2020 in Raseborg, Finland: Abstract Submission and Early Bird Registration Open Until 30...
Published: Wednesday, 15 January 2020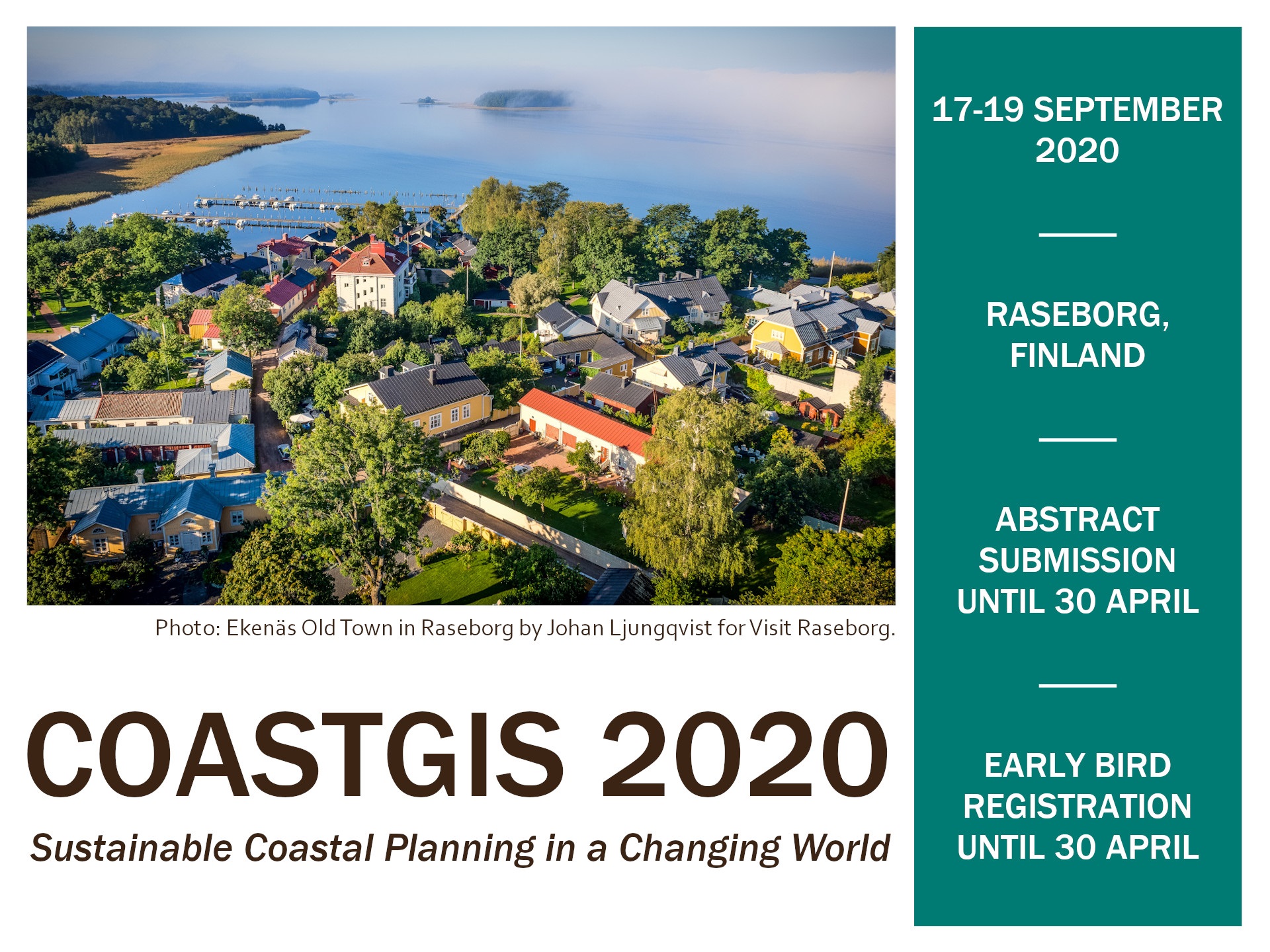 The 14th CoastGIS Symposium will take place on 17-19 September 2020 in Ekenäs on the south coast of Finland. CoastGIS is a biennial series of symposia that brings together practitioners and researchers in the field of marine and coastal Geographic Information Systems, remote sensing and computer cartography. It is an established major international coastal and marine event attracting delegates from around the globe.
Read more: SAVE THE DATE: SEPTEMBER 17-19, 2020, COASTGIS 2020: "SUSTAINABLE COASTAL PLANNING IN A CHANGING...
Published: Friday, 31 January 2020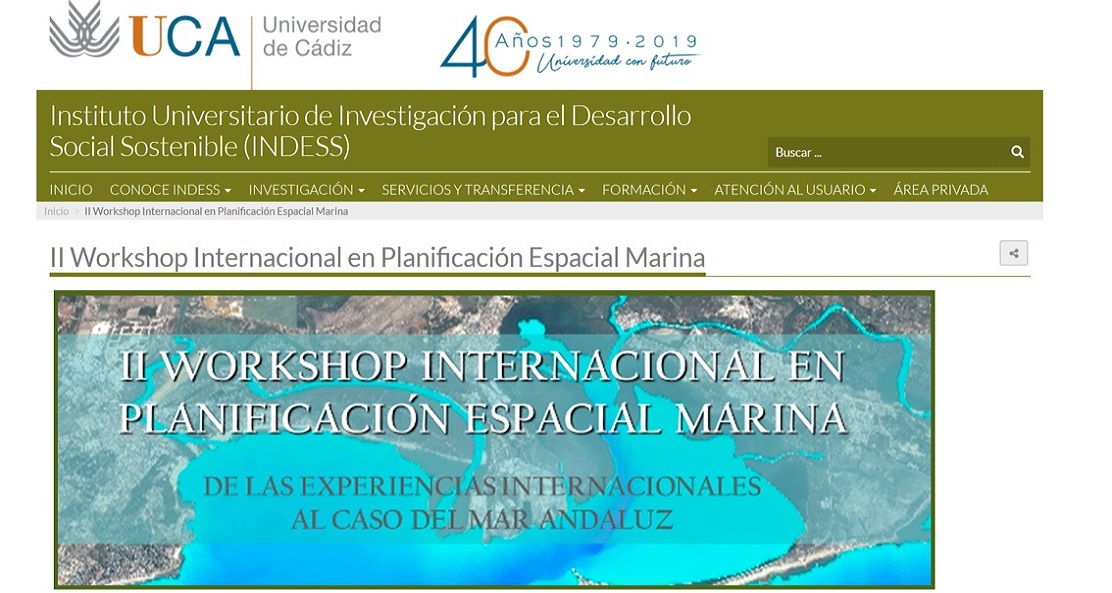 On February 6 and 7, 2020, the II International Workshop on Maritime Spatial Planning "From international experiences to the case of the Andalusian Sea" will be held at the University of Cádiz, Spain. This event will take place in the Library of the Campus of Puerto Real and is aimed to managers and public employees, professionals and companies, social agents, PhD students and last degree courses.
Its objective is to address the issues of greatest relevance and interest for the application of Directive 2014/89/EU for Maritime Spatial Planning in Spain and in Andalusia. The workshop will begin by addressing the international framework and the experiences of the pilot projects developed in Spain: SIMNORAT, SIMWEST and MarSP projects.
Read more: Second International Workshop on Maritime Spatial Planning 6-7 February 2020, Cadiz, Spain
Published: Wednesday, 01 January 2020

Only few days left to the deadline for abstracts submission until 15 JANUARY 2020 and we would like to encourage you for sending contributions to the EGU2020 Session: GM6.4 COASTAL ZONE GEOMORPHOLOGICAL INTERACTIONS: NATURAL VERSUS HUMAN-INDUCED DRIVING FACTORS, information on which please find below.
Session link: https://meetingorganizer.copernicus.org/EGU2020/session/37494
THE SESSION IS SPONSORED BY THE COMMISSION ON COASTAL SYSTEMS (CCS) OF THE INTERNATIONAL GEOGRAPHICAL UNION (IGU) (http://www.igu-ccs.org)
Read more: EUROPEAN GEOSCIENCES UNION GENERAL ASSEMBLY (EGU2020) VIENNA, AUSTRIA 03–08 MAY 2020