Published: Tuesday, 01 February 2022

Today, it is the launching of a new global movement to build and strengthen knowledge to take action for the ocean we urgently need to save. Today, it is the launching of Generation Ocean (GenOcean).
Whether we live inland or by the sea, the ocean is essential to life and livelihoods; it is humanity's most constant and loyal supporter. Its waters connect us to one another, and its influence on our lives can be felt on a daily basis.
However, due to human activity, the ocean is under stress, and we have reached a decisive moment in our capacity to get it back on track.
EVERY GENERATION HAS A PART TO PLAY.
Whoever you are, wherever you're from, no matter what age, we are all GenOcean!
Join the global movement to grow awareness, build knowledge and drive action to restore, protect and live better with the ocean.
Published: Friday, 08 October 2021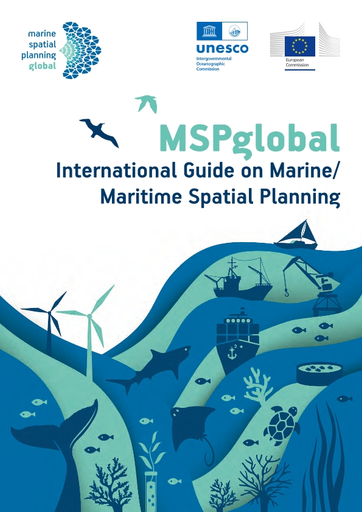 Produced jointly by the Intergovernmental Oceanographic Commission (IOC) of UNESCO and the European Commission's Directorate-General for Maritime Affairs and Fisheries (DG MARE), the "MSPglobal International Guide on Marine/Maritime Spatial Planning" presents a diversity of topics, case studies and actions to assist governments, partners and practitioners in their MSP processes.
Read more: Launch of the MSPglobal International Guide on Marine/Maritime Spatial Planning
Published: Friday, 26 November 2021

The 2nd Advisory Board Meeting under the project "Cross-border Maritime Spatial Planning for the Black Sea - Bulgaria and Romania" - MARSPLAN-BS II was held online on November 16, 2021. The event was organized by the Ministry of Regional Development and Public Works, Bulgaria, MARSPLAN-BS II Coordinator.
The project is implemented with the financial assistance of the European Maritime and Fisheries Fund (EMFF) of the European Union (EU) via the European Commission`s Directorate General for Maritime Affairs and Fisheries (DG MARE) and the European Climate, Infrastructure and Environment Agency (CINEA) under the Multi-beneficiary Grant Agreement EASME/EMFF/2018/ 1.2.1.5/01/SI2.806725. The project runs from July 2019 till the end of 2021 by a consortium composed of eight partners from Bulgaria and Romania. Its main goal is to support coordinated cross-sectoral Maritime Spatial Planning in Bulgaria and Romania in the framework of EU MSP Directive 2014/89/EU and to establish a long-term mechanism for cross-border cooperation in the Black Sea Basin.
Representatives of all institutions involved in the project participated at the meeting - Romanian Ministry of Development, Public Works and Administration, National Center for Regional Development (Sofia, Bulgaria), National Institute for Marine Research and Development "Grigore Antipa" (Constanta, Romania), Center for Coastal and Maritime Studies (Varna, Bulgaria), "Nikola Vaptsarov" Naval Academy (Varna, Bulgaria), GEOECOMAR (Bucharest, Romania), and Ovidius University of Constanta (Romania).
Read more: SECOND ADVISORY BOARD MEETING OF THE MARSPLAN-BS II PROJECT
Published: Tuesday, 24 August 2021

The 34th International Geographical Congress was held 16-20 August 2021, convened by Istanbul University, Turkey. In view of the continuing disruption due to Covid19, this was a virtual Congress. More than 600 delegates from 75 countries were part of the event.
The First International Geographical Congress was held in Antwerp in 1871, and it passed a motion in favour of the use of the Greenwich Meridian as a global standard. And 150 years later, IGC remains the greatest periodic international event for the world geographic community; the various plenary presentations and parallel sessions were scheduled according to GMT.
The Commission on Coastal Systems (CCS) to the International Geographical Union (IGU) (http://igu-coast.org/) convened three parallel sessions at the Congress, chaired by Margarita Stancheva (CCS Secretary) and Colin Woodroffe (CCS Chair), and focused on the theme 'sustaining coastal and marine environments in the Anthropocene'.
In the context of the MARSPLAN-BS II project, (funded by the EMFF via the European Commission` DG MARE and CINEA) as partner in the project, CCMS leads two important activities on addressing the Multi-Use (MU) Concept with MSP and integration of Land-Sea Interactions (LSI) in MSP. In her presentation, Dr. Margarita Stancheva (CCMS project coordinator) presented the results of elaborated MU case study in Bulgarian maritime space: exploring the potential for development of one MU combination: Tourism, Underwater Cultural Heritage (UCH) & Environmental Protection (municipalities of Shabla, Kavarna and Balchik) and the identified key drivers and barriers, as well as key recommendations to overcome these barriers.
Read more: CCMS presented MARSPLAN-BS II results at the 34th International Geographical Congress
Subcategories