Published: Monday, 18 May 2020

Despite the global pandemic caused by COVID-19, Maritime Spatial Planning (MSP) process continues in the Black Sea: on 7 May 2020, the Second Steering Committee (SC) Meeting of the MARSPLAN-BS II Project was successfully conducted in a video-conference format. The meeting was organised by the Ministry of Public Works, Development and Administration of Romania with the participation of the MARSPLAN-BS II project partnership, as well as representatives from the EC`DG MARE and EASME. The CCMS is one of the Bulgarian partners in the project.
Read more: SECOND STEERING COMMITTEE MEETING - MARSPLAN-BS II PROJECT
Published: Monday, 11 May 2020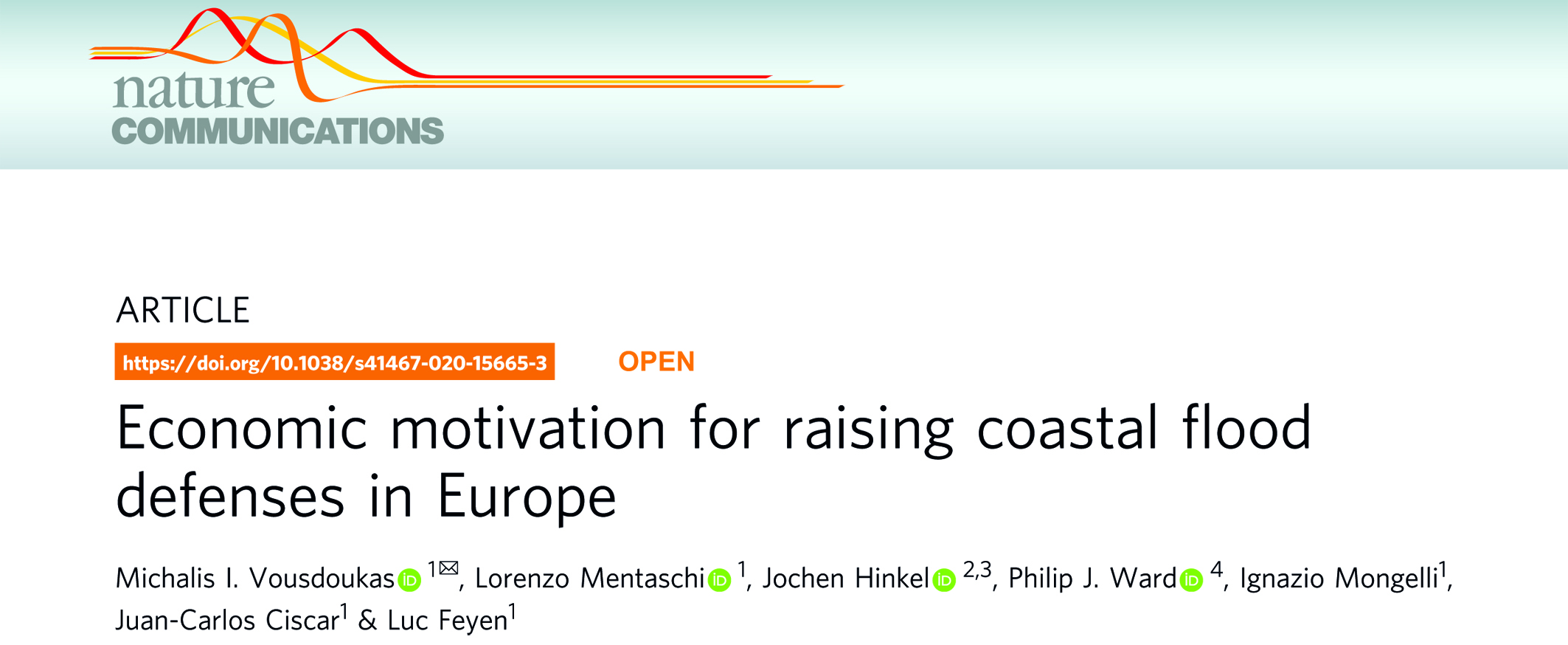 The coastal zone is an area of high interest. At present, more than 200 million European citizens live within 50 km from the coastline, and current trends indicate that migration toward coastal zones is continuing. Coastal zones are particularly vulnerable to climate change due to the combined effects of sea level rise and potential changes in the frequency and intensity of storms. The continued rise in sea levels along Europe's coastlines in view of global warming could result in unprecedented coastal flood losses in Europe, in case no additional coastal protection and risk-reduction measures are implemented.
There exists a range of possible adaptation measures to increase the resilience of future coastal societies to flooding, summarized as protect, accommodate, retreat and do nothing. Coastal adaptation, however, could prevent 95% of the projected economic losses.
Read more: Coastal adaptation against sea level rise makes economic sense: a new JRC study published in...
Published: Tuesday, 12 May 2020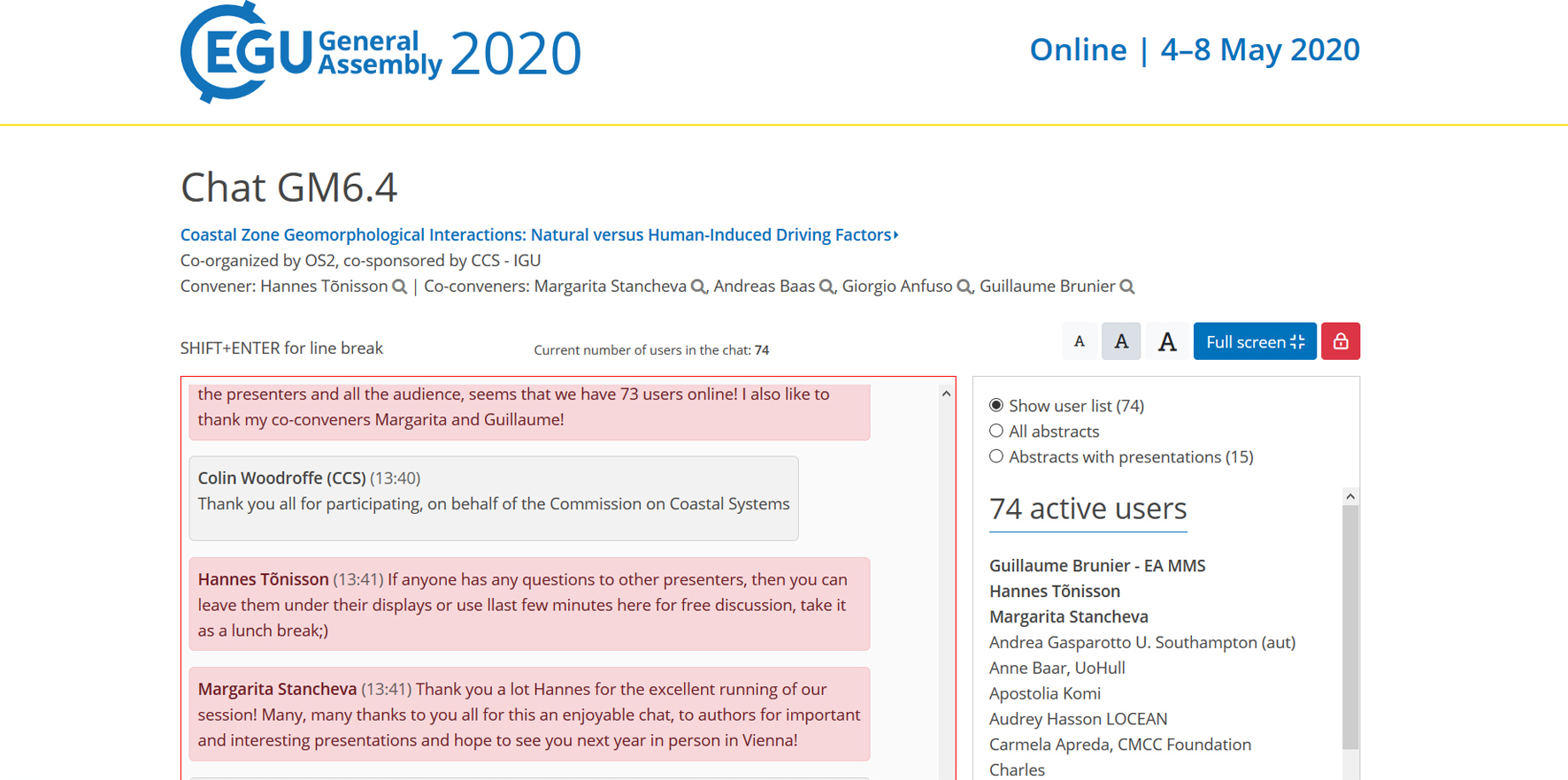 The EGU General Assembly 2020 in the online format Sharing Geoscience Online was an exciting experiment in response to the COVID-19 pandemic and a great success: 18,036 abstracts formed the programme with 701 scientific sessions, 11,380 presentation materials accompanied the abstracts and received 6,297 comments so far (to be continued until 31 May). A fantastic number of 26,219 individual users joined the 721 live text chats and posted 200,400 messages.
Read more: OUR EGU2020 GM6.4 ONLINE CHAT SESSION GAINED A GREAT SUCCESS!
Published: Sunday, 03 May 2020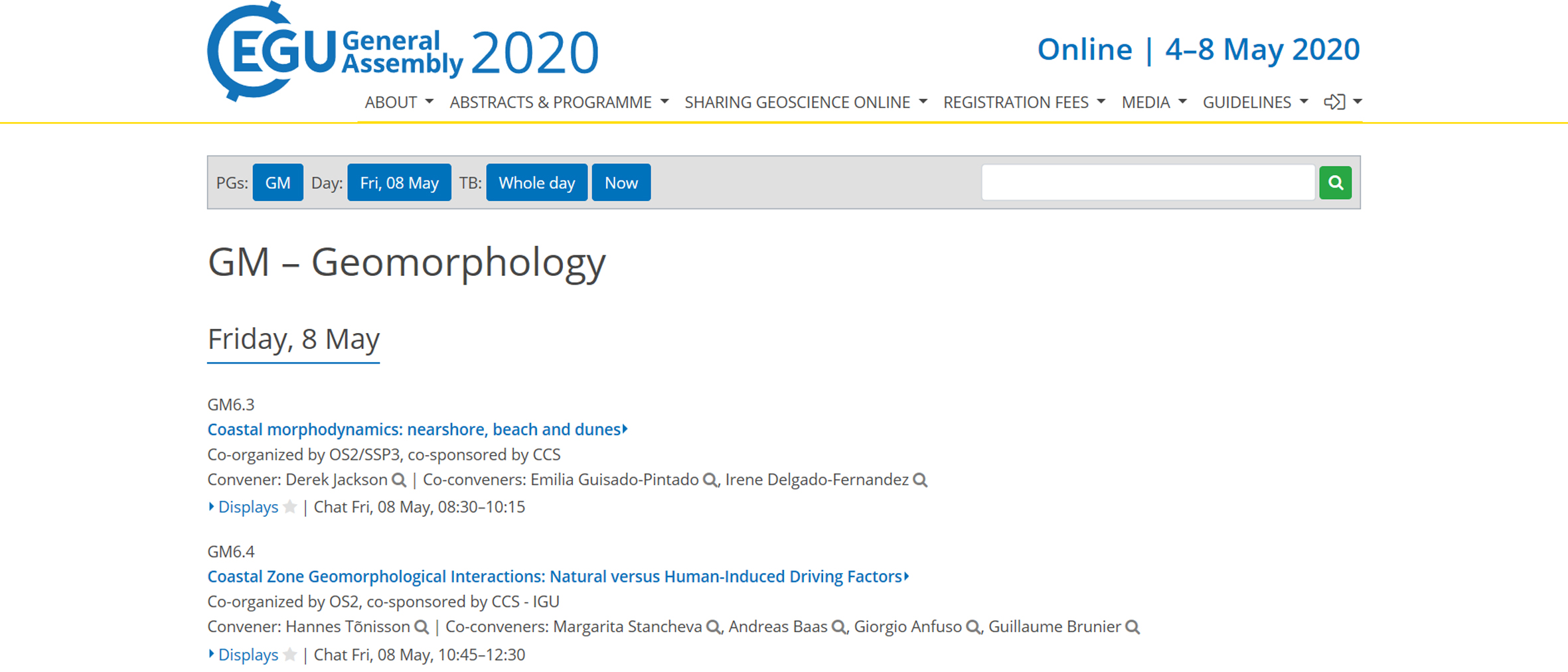 The EGU General Assembly 2020 online activities "Sharing Geoscience Online" kick off from Monday, 04 May 2020. Please see https://egu2020.eu/, for a quick overview of what is on during the coming week. Please find Sharing Geoscience Online in a nutshell at:
https://egu2020.eu/sharing_geoscience_online/sharing_geoscience_online.html
and the full programme here:
https://meetingorganizer.copernicus.org/EGU2020/meetingprogramme.
The Commission on Coastal Systems (CCS) of the International Geographical Union (IGU) has sponsored two EGU2020 coastal sessions that will be conducted by EGU sharing live chat, the chat is open Friday 8 May:
Subcategories