EGU2019 GM11.5 SESSION: COASTAL ZONES UNDER NATURAL AND HUMAN-INDUCED PRESSURE (SPONSORED BY COMMISSION ON COASTAL SYSTEMS OF THE INTERNATIONAL GEOGRAPHICAL UNION)
Convener: Margarita Stancheva | Co-conveners: Jasper Leuven, Andreas Baas, Giorgio Anfuso, Lisa Harrison, Hannes Tõnisson, Wout van Dijk, Guillaume Brunier.
The EGU2019 GM11.5 Session on: Coastal zones under natural and human-induced pressure (sponsored by CCS – IGU) was a great success at the EGU 2019 General Assembly, 7-12 April 2019 in Vienna, Austria.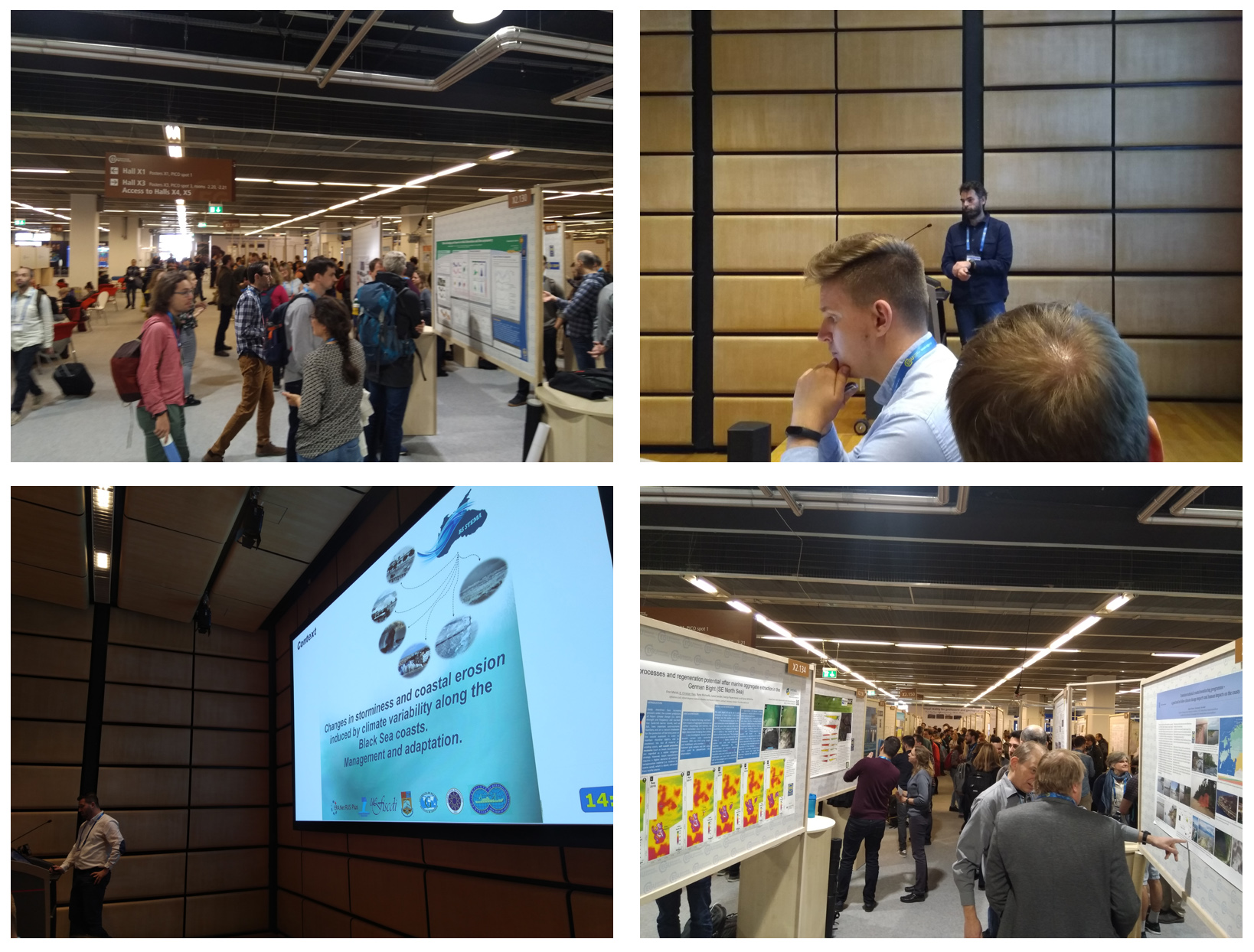 The session aimed to bridge the gap between natural coastal zone dynamics and future response to human influence and climate change. Contributions included subjects related to coastal geomorphology: evolution of coastal landforms, coastal morphodynamics, coastline alterations and various associated processes in the coastal zone, e.g. waves, tides and sediment drift, which shape coastal features and cause morphological changes. The topics included works on predictions of shoreline change and coastal erosion, beaches, estuary and delta development and discussions on the effects of human activities and their continuing contribution to coastal changes. The session also covered submissions on coastal vulnerability to the combined effects of natural and human-related hazards, coastal and environmental sensitivity classifications, and risk assessments.
The EGU2019 GM11.5 Session was held with 24 abstract submissions, and was divided into one oral session of seven 15-minute talks and a poster session with 17 poster presentations. The oral session was conducted on Thursday, 11 of April and the poster session was conducted on Friday, 12 of April. The oral program was chaired by Hannes Tonisson (CCMS AC Member) and Wout van Dijkand (https://meetingorganizer.copernicus.org/EGU2019/orals/32836). The session started with solicited talk on TOURISM ORIENTED COASTAL INTERVENTIONS. INTENTIONS AND SIDE EFFECTS, by CCMS AC member George Alexandrakis and Nikolaos Rempis.
More information on session is included in the upcoming mid-July 2019 CCS Newsletter.
The next EGU General Assembly 2020 will be on 3–8 May 2020, Vienna, Austria and we are cordially looking forward to your active participation again!