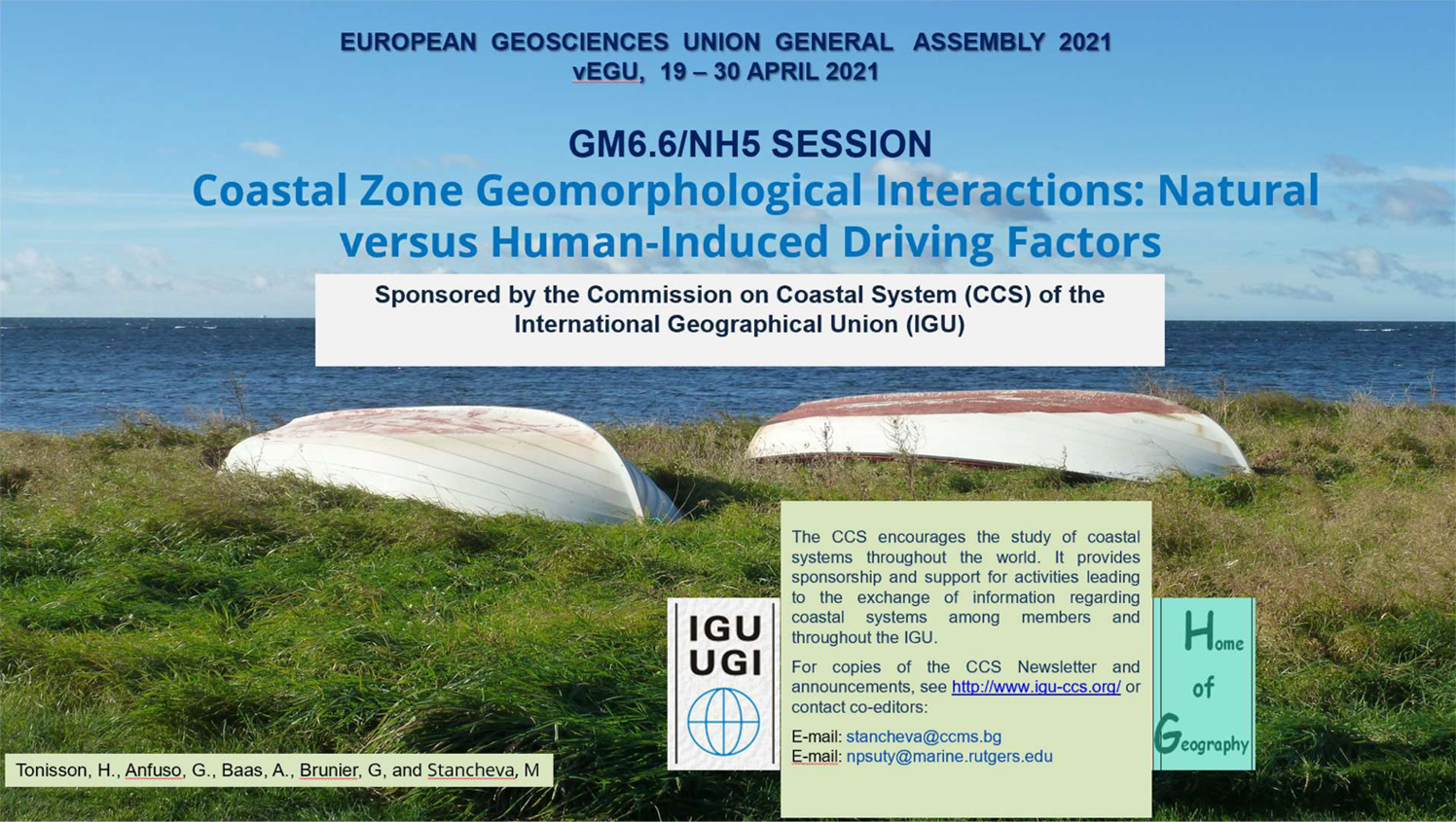 The Geomorphology Session GM6.6/NH5 on: "Coastal Zone Geomorphological Interactions: Natural versus Human-Induced Driving Factors" was successfully conducted for the thirteenth time at the vEGU 2021 General Assembly, 19-30 April 2021 in Vienna, Austria. Actually, this year's session was only organized from Vienna, while all the conference attendants joined via Zoom Meetings system. Despite some technical problems on the first day, the session ran smoothly, and all apart one presenter were present via online system.
Contributions to this session were focused on wide range of topics, including the mechanisms triggering coastal flow slides, vulnerability of coastal deltas, trends in shoreline variability driven by anthropogenic factors, coastal dunes as natural coastal protection measures - all these addressed also the many natural and anthropogenic factors.
The session topics also included number of case-studies introducing innovative shoreline change monitoring methods combined with more traditional methods (Open source satellite images, old maps combined with UAV, Sentinel satellite images, geological and hazardous systematic cartography, etc.). Due to the climate change and resulting sea-level rise, studies related to beach nourishment are getting more popular and as a result, two studies introducing different approaches of beach nourishment were presented in our session. Discussion of the effects of human activities and their continuing contribution to coastal changes was active as usual. Finally, classifying coastal vulnerability in different coastal ecosystems (deltas, natural sandy shores, heavily engineered shorelines etc.) has been playing important role in more developed countries for more than a decade (U.S, Europe, Australia), this time, one study conducted in Kenya, Africa was also introduced.
The vEGU2021 GM6.6NH5 Session was held with 14 abstract submissions. 13 presentations were introduced in one vPICO session. Each presenter had the opportunity to show one slide and carry out two-minute talk. vPICO session was followed by nearly 45-minute chat session, where all participants had the opportunity to go and chat with each presenter in separate online room. Basically, it felt near real when interested attendees met around different presentations (in private online rooms) and they had an opportunity to continue more focused discussion and ask as many questions from the authors as needed. Around 75 unique users were present in our online session – near average for 2021 vEGU sessions.
The vPICO session was conducted on Wednesday, 28th of April. The program of the vPICO session was chaired by Dr. Hannes Tõnisson (Estonia) and detailed list of presentations can be viewed here: https://meetingorganizer.copernicus.org/EGU21/session/40296#
The session has been sponsored by the Commission on Coastal Systems (CCS) of the International Geographical Union (IGU) for the eleventh year in succession. With this success the EGU Session on coastal zone geomorphic interactions together with the support of CCS has taken on an important role in fostering the exchange of knowledge on coastal geomorphology and experience among researchers to explore the variety of natural and human factors that modify the coasts.
The next EGU General Assembly 2022 will be on 03 – 08 April 2022 in Vienna, Austria. Hopefully, next event will be held in real life and we can meet you all again. As usual, we are looking forward to your active participation again.
The session was organized by:
Dr. Hannes Tonisson (Tallinn University, Institute of Ecology)
Dr. Margarita Stancheva (Center for Coastal and Marine Studies)
Dr. Andreas Baas (Department of Geography - King's College London
Dr. Giorgio Anfuso (Faculty of Marine Science - University of Cádiz)
Dr. Guillaume Brunier (University of Western Brittany, LEMAR)