Center for Coastal & Marine Studies

The Commission on Coastal Systems (CCS) to the International Geographical Union (IGU) is delighted to release its January 2022 Newsletter: you can discover the latest news, CCS recent and upcoming activities, initiatives and collaborations by following CCS website: http://igu-coast.org/.
The CCS Newsletter is issued twice a year and highlights the activities of the Commission on Coastal Systems and its members all across the world. If you would like to join CCS network, you only need to fill out the form at the end of the Newsletter or to get in contact with CCS!
Enjoy the content of CCS January 2022 Newsletter and participate by sharing information and disseminating it to your wide networks and interested readers.
Commission on Coastal Systems, International Geographical Union.

We are pleased to promote our most recent peer-reviewed research paper: Most Attractive Scenic Sites of the Bulgarian Black Sea Coast: Characterization and Sensitivity to Natural and Human Factors. The article has been published in the MDPI Land open-access journal, Special Issue: Land Modifications and Impacts on Coastal Areas in collaboration with:
• Department of Science and Technology (DiST), Parthenope University, Naples, Italy;
• Faculty of Marine and Environmental Sciences, University of Cádiz, Spain; and
• Department of Architecture, Computing and Engineering, University of Wales, Swansea, UK
Bulgaria has impressive scenic diversity and uniqueness, presenting real challenges and opportunities as an emerging tourist destination in terms of sustainable development. However, such as most developing countries, Bulgaria tend to ignore mistakes made previously by developed ones. In this paper, scenic beauty at 16 coastal sites was field-tested by using a well-known methodology, i.e., the Coastal Scenic Evaluation System (CSES), which enables the calculation of an Evaluation Index "D" based on 26 physical and human parameters, utilizing fuzzy logic matrices. An assessment was made of these high-quality sites located in Burgas (8), Varna (3) and Dobrich (4) provinces.
This is an open access article!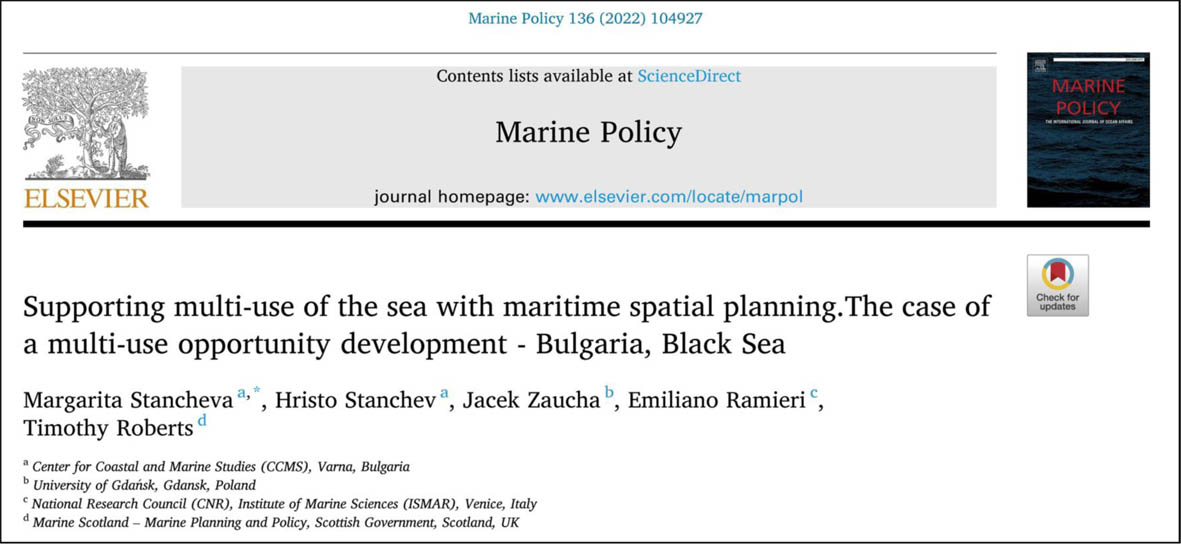 We are happy to announce, that the Center for Coastal and Marine Studies (CCMS) in collaboration with:
• University of Gdansk, Poland
• National Research Council (CNR), Institute of Marine Sciences (ISMAR), Venice, Italy
• Marine Scotland - Marine Planning and Policy, Scottish Government, Scotland, UK
has published a joint peer reviewed research paper in Marine Policy Journal (Elsevier): Supporting multi-use of the sea with Maritime Spatial Planning. The case of a multi-use opportunity development - Bulgaria, Black Sea.
With expanding human uses of sea space, the role of marine/maritime spatial planning (MSP) in supporting their sustainable co-existence and synergies, while preserving marine ecosystems, becomes an increasingly challenging task. To address the sustainable exploitation of sea resources, and the optimal use of sea space, the concept of Multi-Use (MU) has been introduced. Despite international examples of successfully applied multi-uses, this concept is still new for Bulgaria, its decision-makers, spatial planners and stakeholders.

The Final Conference of the MARSPLAN-BS II project was held virtually on November 25, 2021 (organised by the Ministry of Regional Development and Public Work – MRDPW, Bulgaria, project coordinator of MARSPLAN-BS II). The project is implemented with the financial assistance of the European Maritime and Fisheries Fund (EMFF) of the European Union (EU) via the European Commission`s Directorate General for Maritime Affairs and Fisheries (DG MARE) and the European Climate, Infrastructure and Environment Agency (CINEA) under the Multi-beneficiary Grant Agreement EASME/EMFF/2018/ 1.2.1.5/01/SI2.806725. The project runs from July 2019 till the end of 2021 and its main goal is to support coordinated cross-sectoral Maritime Spatial Planning in Bulgaria and Romania in the framework of EU MSP Directive 2014/89/EU and to establish a long-term mechanism for cross-border cooperation in the Black Sea Basin.
Over 80 participants from different organizations attended the conference, including representatives of the European Commission`s Directorate General for Maritime Affairs and Fisheries (DG MARE) and the European Climate, Infrastructure and Environment Executive Agency (CINEA); the Black Sea Commission, the Organization of the Black Sea Economic Cooperation, members of MARSPLAN-BS II Advisory Board and all project partners.